Cities of the World: Cairo, Istanbul, Seoul, Delhi, Shanghai, Mexico City, Osaka,
DVD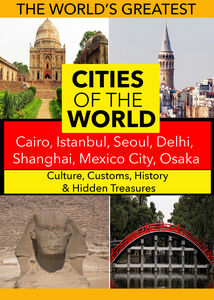 Cities of the World: Cairo, Istanbul, Seoul, Delhi, Shanghai, Mexico City, Osaka,
DVD
CAIRO: Where the only surviving Wonder of the Ancient World is. No words can describe the majestic view of the three 5,000-year-old Pyramids on the Giza plateau. One of most popular ones is the King's Chamber, considered one of the deepest man-made silences on Earth. ISTANBUL: Bridges two continents, marries civilizations that highlights the best of the Roman, Byzantine and Ottoman empires. Perhaps the most popular among tourists is taking the Bosphorus Cruise in Istanbul. You'll see century-old places and mansions to marvel at. Hagia Sophia is definitely a sight to see. It's a splendid church-turned-mosque-turned-museum that's considered one of the world's greatest architectural treasures. SEOUL: Known for shopping and cultural events. The top places to visit are Insadong, Apgujeong, Myeongdong, Dongdaemun, and Itaewon. DELHI: India's capital is known for it's captivating sights and rich history. The city is beautified with mosques, forts, and monuments and the popular landscaped gardens. There is the bustling Old Delhi, and the well-planned New Delhi, each with their own attractions. One of the most popular in Delhi is the Jama Masjid mosque. SHANGHAI: Is the most prosperous city in China. It is in fact also the largest city, teeming with vigor and vitality. Cruise along the Huangpu River and stroll along The Bund. MEXICO CITY: It's historic center includes Coyoacan, which was the original settlement for the conquistadores. Today, it has become an enclave of artists and writers, such as Frida and Diego, and it exudes colonial charm. OSAKA: The central metropolis of the Kansai Region and the largest of the Osaka - Kobe - Kyoto Trio. Namba is the main railway station also surrounded with the department stores and endless places for shopping.
| | |
| --- | --- |
| Studio: | TMW Media Group |
| Attributes: | Manufactured on Demand |
| Release Date: | 4/22/2021 |
| | |
| --- | --- |
| Product Type: | DVD |
| Rated: | NR |
| UPC: | 709629248793 |
| Item #: | 2399514X |