Crime and Punishment U.S.A.
DVD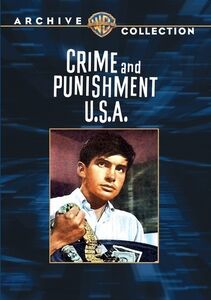 Crime and Punishment U.S.A.
DVD
It says a lot about George Hamiltons acting skills that his first credited performance was this starring and very demanding role. He shines as Robert Cole, a troubled young man with a troubling belief: Exceptional people shouldnt have to pay for their crimes. After blacking out near the scene of a murder, Cole captures the attention of the police and proceeds to play a deadly cat-and-mouse game with a tenacious cop, a beautiful stranger and a family foe.1950s Southern California is as far from 19th-century Moscow as you can get or is it? By radically changing the setting of Dostoevskis Crime and Punishment, this moody thriller makes the dusty classic new, fresh and dangerous once again. Literary fans will be impressed, and film fans will delight in being reunited with this unique, sun-drenched, jazz-tinged noir opus. **Please be aware that this is a manufactured on demand disc that was created using a DVD-R disc. It should play in all standard DVD players.
| | |
| --- | --- |
| Director: | Denis Sanders |
| Studio: | Warner Archives |
| Attributes: | Full Frame, Black & White, Manufactured on Demand, Mono Sound |
| Release Date: | 3/23/2009 |
| Original Year: | 1959 |
| | |
| --- | --- |
| Product Type: | DVD |
| Rated: | NR |
| UPC: | 883316127148 |
| Item #: | WBA612714 |
| | |
| --- | --- |
| Closed Caption: | No |
| Street Date: | 3/23/2009 |
| Run Time: | 95 minutes |