Hawthorne of the U.S.A.
DVD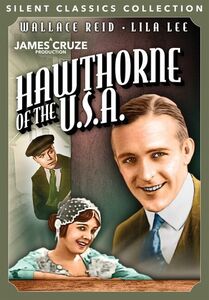 Hawthorne of the U.S.A.
DVD
Action, comedy, and romance mix in this rare silent outing that follows Anthony Hamilton Hawthorne (Wallace Reid), an unassuming American legal clerk who hits big during a trip to Monte Carlo. Before long, Hawthorne finds himself courting a beautiful young lady (Lila Lee)--unaware that she's the princess of a neighboring nation--and risking his life to put down a Bolshevik revolution. With Harrison Ford (the original one), Tully Marshall. 72 min. Standard; Soundtrack: music score; bonus footage. Silent with music score.
| | |
| --- | --- |
| Title: | Hawthorne of the U.S.A. |
| Genre: | Comedy Video, Drama-Classics (Silent Films) |
| Starring: | Wallace Reid, Lila Lee, Harrison Ford, Tully Marshall, Charles Ogle, Guy Oliver, Edwin Stevens, Clarence Burton, Theodore Roberts, Ruth Renick |
| | |
| --- | --- |
| Director: | James Cruze |
| Studio: | Alpha Video |
| Attributes: | Manufactured on Demand, Silent Movie |
| Release Date: | 9/14/2021 |
| Original Year: | 1919 |
| | |
| --- | --- |
| Product Type: | DVD |
| UPC: | 089218844590 |
| Item #: | 2445961X |