Mayday at 40,000 Feet!
DVD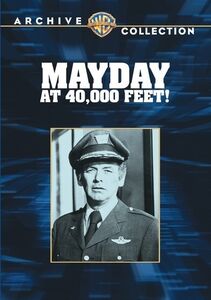 Mayday at 40,000 Feet!
DVD
Blinding snow threatens to send a jetliner hurtling toward doom. But Captain Pete Douglass (David Janssen, TVs The Fugitive) has more than a snowstorm to battle when an armed madman turns the fuselage into a shooting gallery and his fellow passengers into clay pigeons. Made in the era of Airport, The Towering Inferno and more epics of disaster, Mayday at 40,000 Feet! is piloted by three-time Emmy-winning director Robert Butler. Butler isnt the only award recipient aboard the project: Best Actor Oscar winners** Ray Milland and Broderick Crawford are among those flying straight into peril. **Please be aware that this is a manufactured on demand disc that was created using a DVD-R disc. It should play in all standard DVD players.
| | |
| --- | --- |
| Title: | Mayday at 40,000 Feet! |
| Genre: | Action / Adventure |
| Starring: | Kathleen Bracken, Margaret Blye, David Janssen, Christopher George, Lynda Day George, Maggie Blye, Broderick Crawford, Tom Drake, Christopher Norris, Harry Rhodes |
| | |
| --- | --- |
| Director: | Robert Butler |
| Studio: | Warner Archives |
| Attributes: | Full Frame, Manufactured on Demand, Mono Sound |
| Release Date: | 11/17/2009 |
| Original Year: | 1976 |
| | |
| --- | --- |
| Product Type: | DVD |
| Rated: | NR |
| UPC: | 883316221525 |
| Item #: | WBA622152 |
| | |
| --- | --- |
| Closed Caption: | No |
| Street Date: | 11/17/2009 |
| Run Time: | 93 minutes |