Rowan & Martin's Laugh-In: The Complete Series
DVD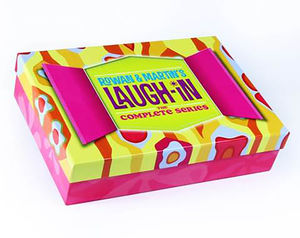 Rowan & Martin's Laugh-In: The Complete Series
DVD
Hosted by Dan Rowan and Dick Martin, this groundbreaking variety show was a fast-moving barrage of jokes, one-liners, running skits and musical numbers. The group of regulars including Goldie Hawn, Lily Tomlin, Jo Anne Worley, Ruth Buzzi, Arte Johnson, Henry Gibson, Judy Carne, Alan Sues, Chelsea Brown and Gary Owens, plus frequent guests like Barbara Feldon, Flip Wilson and Don Rickles, left a lasting impression on America.
FEATURES:
Every Episode: 140 episodes from all six seasons on 38 DVDs housed in a deluxe collector's box.
New: Includes never-before-released Laugh-In episodes, including three Christmas episodes and The Pilot Episode which originally aired September 9, 1967.
Bonus DVD: An exclusive bonus DVD and exclusive bonus features only available in this collection including the 25th Anniversary Cast Reunion, Bloopers, plus interviews with Lily Tomlin, Executive Producer and Creator George Schlatter, Dick Martin, Gary Owens, Ruth Buzzi, and many others.
Memory Book: Includes a Collectible Memory Book filled with jokes, pictures from the show, behind-the-scenes photos, and a note from executive producer and creator George Schlatter.
Guest Stars: Tim Conway, Bob Newhart, Debbie Reynolds, Liberace, Raquel Welch, Sammy Davis, Jr., Jonathan Winters, Carol Channing, The Monkees, Sonny and Cher, Barbara Feldon, Bobby Darin, Diana Ross, James Garner, Michael Landon, Steve Lawrence, Flip Wilson, Don Rickles and more!
Rowan and Martin's Laugh-In: The Complete Series DVD Box Set
| | |
| --- | --- |
| Studio: | Time Life |
| Number of Discs: | 38 |
| Release Date: | 10/2/2018 |
| | |
| --- | --- |
| Product Type: | DVD |
| UPC: | 610583575590 |
| Item #: | 2088472X |